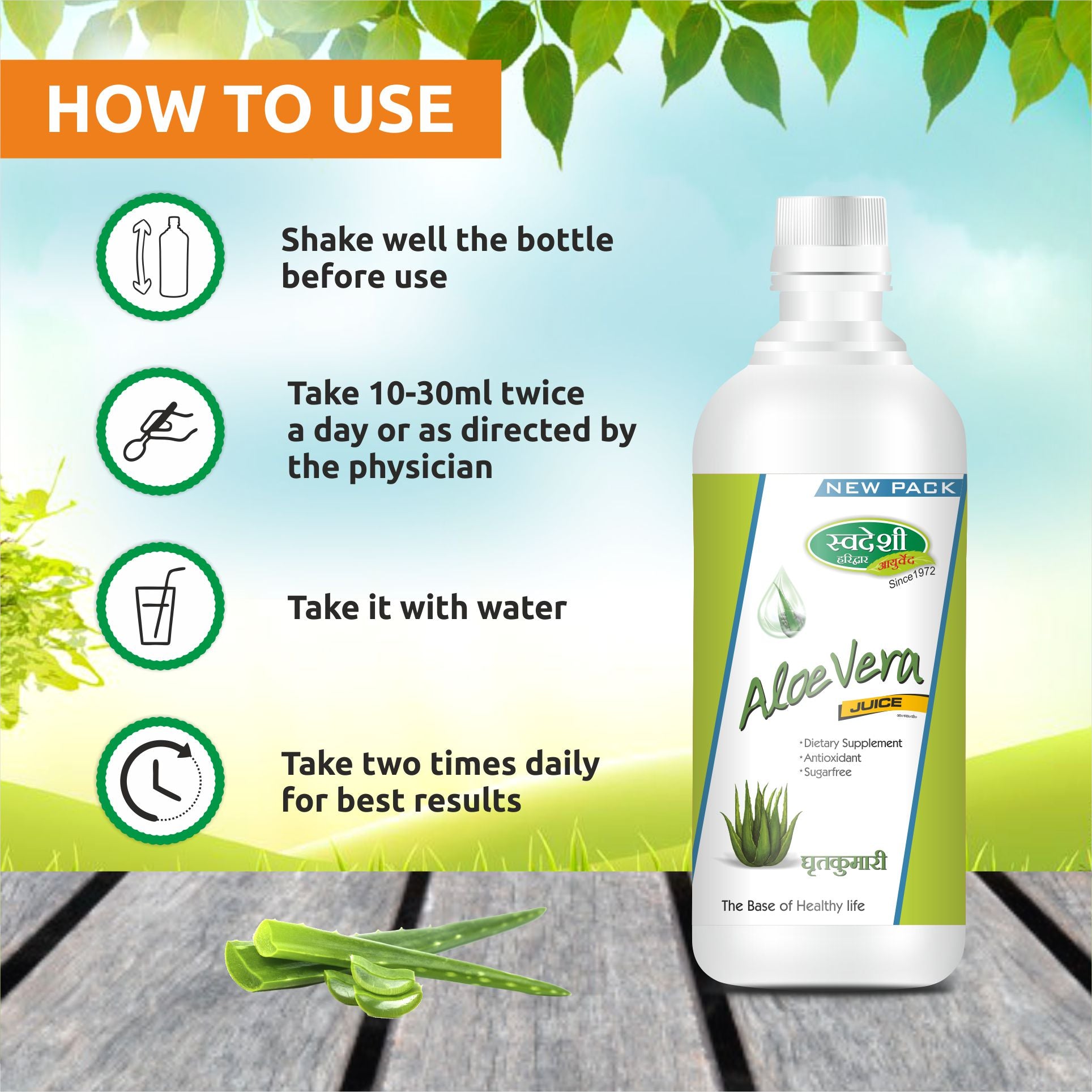 Sale price
Rs. 320.00
Regular price
Get Free Shipping on First Order
Product description
Shipping & Return
Product Reviews
PACK SIZE: 500 ml and 1000 ml
INGREDIENT LIST:
Aloe barbadensis (99.4%), Sodium Benzoate (QS)
KEY BENEFITS:
Very useful in thalassemia, Digestion, Wonderful for sugar/diabetic patients.
HOW TO USE:
10 - 30 ml twice a day or as directed by a physician.
PRODUCT DESCRIPTION
Aloe vera is a plant species with several medicinal and nutritional uses. Swasdeshi Aloe vera Juice aids in proper digestion. It activates the liver. No artificial colors are added to our product.
KEY-INGREDIENT:
Aloe vera helps manage constipation.
Aloe vera can help manage weight by reducing Ama due to its property of Deepan (increase in the digestive fire).
Aloe vera helps to control high blood sugar levels.
Benefits of Swadeshi Ayurvedic Aloe Vera Juice
In the realm of natural remedies and wellness, Swadeshi Ayurvedic Aloe Vera Juice emerges as a powerhouse of health benefits. With its remarkable properties and holistic advantages, this Ayurvedic elixir has gained substantial attention for its potential to enhance overall well-being. In this comprehensive guide, we delve into the myriad benefits of Swadeshi Ayurvedic Aloe Vera Juice, uncovering the treasures it brings to those who incorporate it into their daily regimen.
A Natural Digestive Aid
Swadeshi Ayurvedic Aloe Vera Juice, extracted from the nutrient-rich leaves of the Aloe Vera plant, offers an array of benefits for the digestive system. The juice is known to soothe and calm gastrointestinal distress, making it an effective remedy for issues like acidity, indigestion, and even irritable bowel syndrome. Its natural enzymes assist in breaking down food, promoting smoother digestion and reducing discomfort.
Glowing Skin and Hair
The journey to radiant skin and lustrous hair finds a reliable companion in Swadeshi Ayurvedic Aloe Vera Juice. Packed with vitamins, minerals, and antioxidants, this juice nourishes the skin from within, helping to combat acne, blemishes, and signs of aging. It also acts as a natural moisturizer, leaving the skin supple and hydrated. Additionally, applying the juice to the scalp can promote healthier hair growth, reduce dandruff, and enhance the overall vitality of your locks.
Immune System Booster
The immune-boosting potential of Swadeshi Ayurvedic Aloe Vera Juice is truly remarkable. Enriched with polysaccharides and antioxidants, it aids in fortifying the body's natural defense mechanisms. Regular consumption of the juice is believed to enhance immunity, making the body more resilient to infections, allergies, and seasonal illnesses.
Detoxification and Weight Management
In a world filled with pollutants and unhealthy dietary choices, the detoxifying benefits of Swadeshi Ayurvedic Aloe Vera Juice are invaluable. Its natural detox properties help in flushing out toxins, purifying the bloodstream, and promoting healthy liver function. Furthermore, this elixir can play a supportive role in weight management journeys by boosting metabolism and aiding in the breakdown of fats.
Alleviating Joint Discomfort
For individuals grappling with joint pain and inflammation, the anti-inflammatory properties of Swadeshi Ayurvedic Aloe Vera Juice can offer solace. The juice contains compounds that may help reduce swelling and alleviate discomfort in joints, making it a natural option for those dealing with conditions like arthritis.
Managing Blood Sugar Levels
Maintaining stable blood sugar levels is crucial for overall health, and Swadeshi Ayurvedic Aloe Vera Juice might hold a key to this. Some studies suggest that this juice can assist in regulating blood sugar levels, making it a potential aid for individuals with diabetes. However, it's essential to consult a healthcare professional before incorporating it into a diabetes management plan.
How to Incorporate Swadeshi Ayurvedic Aloe Vera Juice
Incorporating Swadeshi Ayurvedic Aloe Vera Juice into your daily routine is effortless. A recommended dosage, typically a few tablespoons a day, can be diluted in water or added to smoothies for a refreshing twist. It's advisable to start with a small quantity and gradually increase as per your comfort level.
Shipping cost is based on weight. Just add products to your cart and use the Shipping Calculator to see the shipping price.
We want you to be 100% satisfied with your purchase. Items can be returned or exchanged within 30 days of delivery.